What does the utility of wear-resisting board have?
What does the utility of wear-resisting board have?
The bimetal composite wear-resistant steel plate is composed of low carbon steel plate and alloy wear-resistant layer, which generally accounts for 1/3 to 1/2 of the total thickness. At work, the matrix provides comprehensive properties such as strength, toughness and plasticity to resist external forces, while the wear-resistant layer provides wear-resistant properties to meet the requirements of specified working conditions. The wear-resistant steel plate alloy wear-resistant layer and the matrix are metallurgical bonded. Through special equipment, using automatic welding process, the high hardness self-protection alloy welding wire is evenly welded on the substrate. Composite layer number of one to two or more layers, composite process due to the alloy shrinkage ratio is different, uniform transverse crack, which is a significant feature of wear-resistant steel plate.
Wear-resistant plate with good heat resistant alloy wear-resisting layer is recommended to use under the working condition of 600 ℃ or less use, if add vanadium in alloy wear-resisting layer, molybdenum alloys, such as can withstand the high temperature of 800 ℃ or less wear and tear. Recommended temperature is as follows: ordinary carbon steel substrate recommended is not higher than 380 ℃ condition of use; Low alloy heat-resistant steel plate (15 crmo, 12 cr1mov, etc.) recommended base plate is not higher than 540 ℃ condition of use; Heat resistant stainless steel substrates recommend used at not higher than 800 ℃ condition. The alloy layer of good corrosion-resistant and wear-resisting composite steel plate contains high percentage of metal chromium, so it has certain rust-proof and corrosion resistance. It can prevent coal from sticking when used in coal chute and funnel.
High hardness chromium carbide wear-resisting composite plate is made of Q235 steel plate and wear-resisting layer. Wear-resistant layer of the matrix is metallurgical combination, with imported special high hardness bright arc flux cored wire evenly composite layer to two or more, the composite process, due to the release of stress, the surface will produce uniform transverse crack. Wear-resisting composite plate has its unique metallographic structure, fibrous distribution, hardness can reach between 56 and 62, but it can be cut, bending, welding and other processing, can say so, basically steel plate can be processed parts, wear-resisting plate can also be processed. Wei clay wear-resisting layer is given priority to with high chromium wear-resistant plate, as well as the composition such as manganese, molybdenum, niobium, eka cesium, formation of the alloy carbide at high temperature has a strong stability, still can maintain higher hardness, but also has the very good oxidation resistance, under 550 ℃ can normal use.
Wear bars、Wear liners、Skid block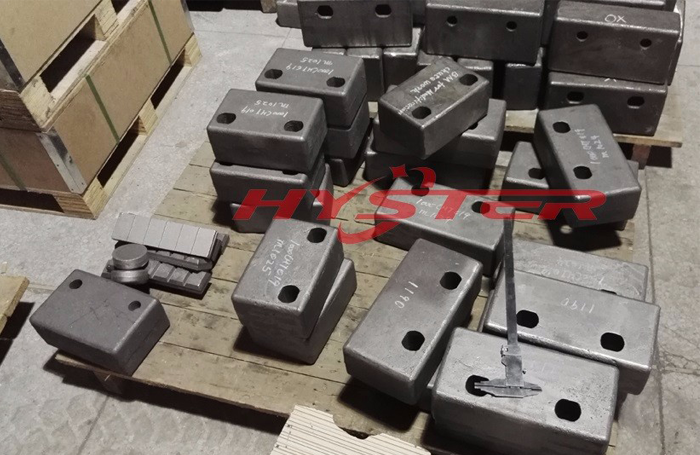 Please feel free to give your inquiry in the form below.