High hardness chromium carbide wear-resistant composite steel plate
High hardness chromium carbide wear-resistant composite steel plate
Wear plate product description:
The high-hardness chromium carbide wear-resistant composite steel plate is made of Q235 steel plate and wear layer. The base of the wear-resistant layer is metallurgically bonded, and is uniformly laminated to two or more layers with a special high-hardness open-air flux-cored wire. During the compounding process, uniform transverse cracks are generated on the surface due to the release of stress. The composite wear plate has its unique metallographic structure and is fibrously distributed. The hardness can reach between 56 and 62, but it can be cut, bent, welded, etc. It can be said that basically the parts that can be processed by the steel plate The Wear plate can be processed.
The wear-resistant layer of the Hyster wear plate is mainly made of high chromium, and also contains manganese, molybdenum, niobium, vanadium and other components. The formed alloy carbide has strong stability at high temperature and can still maintain high Hardness, but also has good oxidation resistance, can be used normally below 550 °C.
Wear plates have their unique advantages:
Better processability
Medium or higher impact resistance
Has good wear resistance
Smooth surface, no stain
Extend spare parts usage time
Improve production efficiency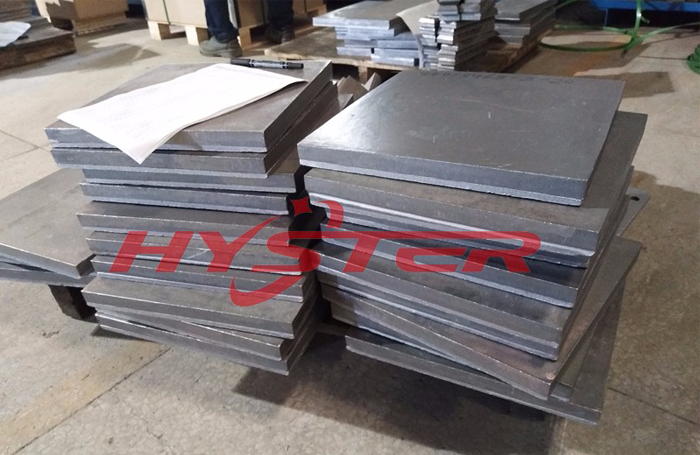 Please feel free to give your inquiry in the form below.