Choc blocks
Brand : Hyster, Domite
Product origin : China
Delivery time : 5 days
Supply capacity : 100 tons per month
Choc block, Chok block – bars are unique block products that can be formed and welded onto flat or curved surfaces. This allows Chokblocks to be used on a range of fixed plant and mobile equipment such as buckets and chute liners.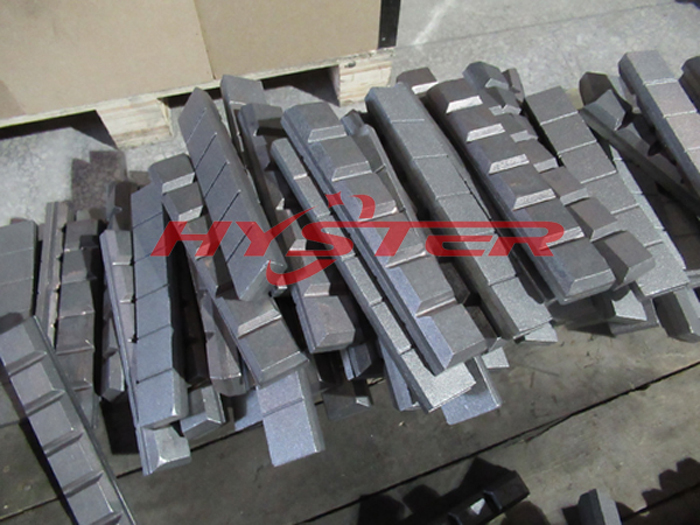 The advantages of using Hyster's range of block products:
Longer wear life: Hyster's block products will greatly outlast Q&T steel.
Reduced downtime: Hyster's block products improve equipment life and require less maintenance and inspections.
Easy to fit: No special qualifications required to weld. As an alternative to welding, studs can be attached on request.
Flexibility: Hyster can supply block products for attachment in the field as required, or they can be pre-attached to equipment.
Adaptability: Hyster's block products are available in a wide range of dimensions and can be adapted to suit a wide range of operating conditions.
Below is Hyster's standard chok blocks:
Hyster Item No.
Size
Dimension(mm)
N.W.
(mm)
A
B
C
D
(kg)
CB 25
240x25x23
240
25
15
23
0.9
CB 40
240x40x23
240
40
15
23
1.5
CB 50
240x50x23
240
50
15
23
1.9
CB 65
240x65x23
240
65
15
23
2.5
CB 80
240x80x23
240
80
15
23
3.2
CB 90
240x90x23
240
90
15
23
3.5
CB 100
240x100x23
240
100
15
23
3.9
CB 130
240x130x23
240
130
15
23
5.4
CB 150
240x150x23
240
150
15
23
6
Hyster Tech is a leading manufacturer of wear resistant products for the mining, construction and resource processing industries. With over 22 years experience, Hyster has distinguished itself as a provider of quality products that meet customer requirements.
Hyster's white iron block products are chromium-molybdenum rich, abrasion resistant, white iron castings that is metallurgically bonded to weldable mild steel backing plate. Hyster's range of block products include:
● Wear block Microledge
● Wear button Wear trap
● Choc block Skid block
● Grizzlybar Rockbox Liners
● Shredder hammer tips & Knife edges
Please just contact us for any inquiries!
Please feel free to give your inquiry in the form below.