Bucket wear parts
Brand : Hyster
Product origin : China
Delivery time : 5 days
Supply capacity : 100 tons per month
HYSTER bimetallic wear products deliver the ultimate protection against high abrasion in some of the harshest conditions. With a variety of shapes and sizes, these products are easily installed to most high wear areas resulting in reduced maintenance and downtime. Extends the life of your excavator, dipper, shovel, wheel loader bucket or crusher liner. Protection can also be customized for other mobile and static equipment.
HYSTER's bimetallic wear products are a combination of high chromium white iron metallurgically bonded to a mild steel backing plate. The white iron has a minimum hardness of 700 Brinell providing incredible abrasion resistance protection to your equipment. The mild steel backer plate is easily weldable with minimal preparation.
Features and Benefits
● Easy to cut for customized protection
● Easy to bend for protecting contoured surfaces
● Available in 9 sizes, CB25/CB40/CB50/CB65/CB80/CB90/CB100/CB130/CB150.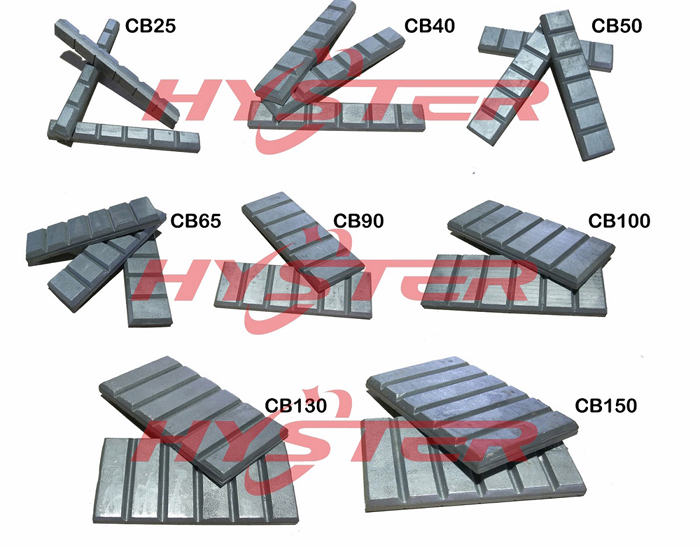 Skid Bars
● Ideal for bucket bottom protection
● Trapezoidal shape for spade bucket lips
● 3 standard sizes in rectangular and trapezoidal shapes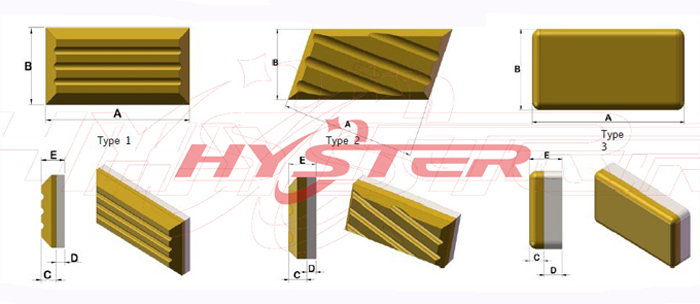 Wear Bars
● Available in multiple sizes and shapes, size from 25-800mm
● Can be used to create "rock box" or "dirt on dirt" protection
Wear Buttons
● Ideal for smaller areas requiring wear resistant material
● Requires less welding time and material
● 5 sizes from 60mm to 150mm in diameter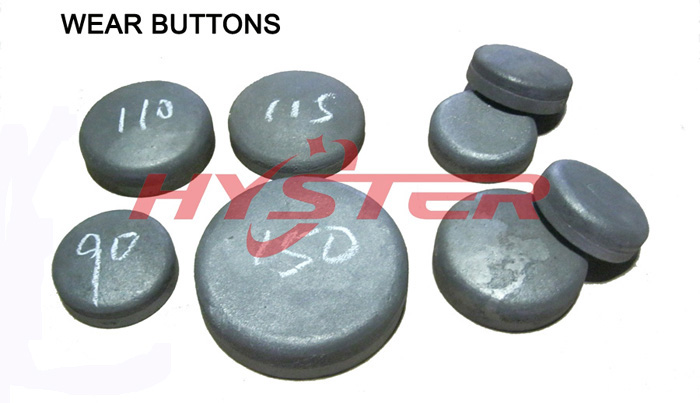 Bolt Protectors
● For protection of exposed nuts and bolts used on cutting edges and similar applications
● Alternative – Can be cut in half and placed in front of exposed nuts and bolts in a U-shaped configuration
Grizzly Bars
● Standard sizes minimize customer cost versus custom shapes
● Peaked profile offers longer wear life and greater material deflection
Other Wear Parts
● Trapezoidal plate used as protective liner for dipper or hydraulic shovel buckets and other applications
● Truck bed liner to protect haul truck beds
● Star plate can be cut up into several triangular shaped pieces for customized wear protection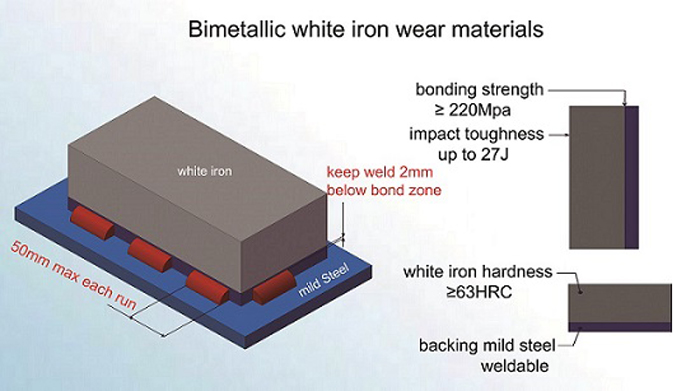 Please feel free to give your inquiry in the form below.