700BHN chocky bar for Bucket wear/impact protection
Brand : Hyster, Domite
Product origin : China
Delivery time : 5 days
Supply capacity : 100tons per month
Material: domite white iron+mild steel Hardness: 700HB, 63HRC The best abrasion and impact material
DOMITE material(700 BHN) Chocky bars products are made in China by the HYSTER TECH.
We have developed a range of over 3,000 different shapes and sizes for a wide variety of applications.
As well as DOMITE, HYSTER TECH supplies other wear resistant composite products known as Chromium carbide overlay wear plates, Nihard 4 wear liners/billets. All these products are designed to withstand high impact and provide maximum wear resistance in the mining, earthmoving, construction, dredging, crushing, sugar and recycling industries.
DOMITE 700bhn Chocky Bars
This product has long been the most popular wear item in the Hyster made DOMITE range.
The Hyster made DOMITE (700 BHN) Chocky Bar was developed many years ago as an alternative to expensive, labour intensive, hard facing welding methods.
Applications for Hyster made DOMITE 700bhn Chocky Bars are wide and varied, ranging from specific wear protection on buckets for loaders, excavators and draglines machines, or for weld-on hammer tips for the re-cycling industry, or chute linings and rock box edges.
700BHN Chocky bars are so easy to use! No storage problems or excessive cutting into strips required when compared to sheets of wear plates. There is also no pre-heating or post heating required when welding DOMITE bars into place.
Hyster made DOMITE Chocky Bars are easy to cut and form onto inside and outside contoured surfaces. Users can calculate their own lay-outs and patterns depending on the area and shape of the parts that they want to protect. The notches in the Chocky Bar casting and/or backing plate assist in cutting them to size or bending them to shape to suit the application.
Talk to us about the use of DOMITE 700BHN Chocky Bars for your particular application. Chances are someone is already using it successfully for that same application somewhere around the world.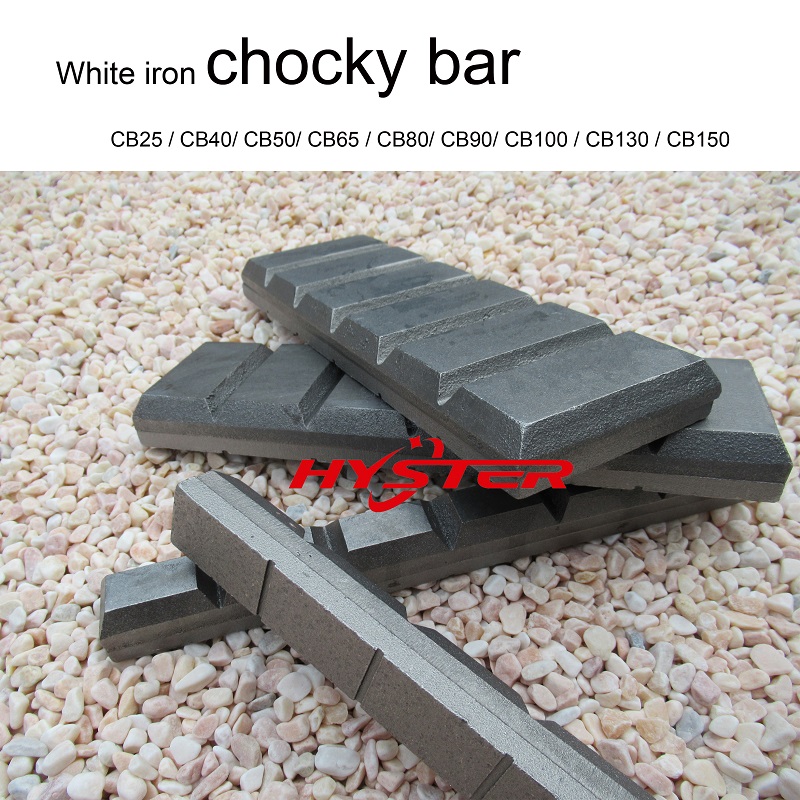 Please feel free to give your inquiry in the form below.