63HRC chocky bar
Brand : Hyster, Domite
Product origin : China
Delivery time : 5 days
Supply capacity : 100 tons per month
Hyster White Iron Wear Blocks combine a number of metallurgical properties into one unique wear resistant material which today has been widely used in most abrasive wear applications. Hyster White Iron Wear Blocks is an extremely hard, laminated bi-metallic, wear resistant composite, which has a nominal hardness of 700 BHN (HRC 63) minimum. It is produced by combining a highly alloyed chromium-molybdenum white iron and metallurgically bonding it to a mild steel backing plate. The bonding possesses high shear strength of over 200 Mpa and will not separate.
The alloy's microstructure is made up of primary and secondary chromium carbides which are supported by a hard, finely dispersed Martenstic matrix. The hardness of alloy provides maximum abrasion resistance, while the steel backing plate acts as a means of absorbing high impacts and allows easy fitting and use.
Typical applications of Hyster White Iron Wear Blocks include Excavator Buckets, Loader Buckets, Dragline Buckets, Face Shovel Buckets, Spider Arm Guards on Crushers, Discharge Chutes, Rock Boxes, Grizzly Bars on Feeders, Shredder and Grinding Mills, Sugar Cane Knife Edges, Adaptor/Attachment Protection, Dredging Equipment, Screen Feed Distribution and Fee Hopper Wear Areas.
Hyster White Iron Wear Blocks have been examined and tested for grade, quality,chemical analysis and hardness which guarantee high abrasion and impact resistance.
Facts about Hyster White Iron Wear Blocks for wear protection:
● Alloy hardness of HBN700 (HRC 63) for long life
● Additional carbides of 1500 HV maximize resistance to abrasion
● Circular and dome design minimizes effects of impact, resulting in less chance of loss
● Easy to position for effective wear resistance
● Proven in mining and construction bucket applications
● Hyster White Iron Wear Blocks are available in any sizes and shape customer wants.
The most common ones are:
● Chocky blocks
● Wear Bar – shaped or standard wear bars
● Wear buttons
● Wear donuts
● Shredder/grinder tips
● Cane knife edges
● Boomerangs, Elbow wear bars
● Wear plates
● Wafer strips
● Skid bars
63HRC Chocky Bars
63HRC Chocky Bars are chocky wear bars were first in the market about 15 years ago and had been well proved in US and Australia market.
63HRC Chocky Bars are easy to use. There is no pre-heating or post heating required when wielding into place. They are easy to form and weld onto inner and outer contoured surfaces. The versatility of 63HRC Chocky Bars allows unique layouts to be created on equipment to reduce the effects of abrasion. The backing plate can be supplied with grooves to aid in the forming, bending and cutting of the block.
The unique, formable design of 63HRC Chocky Bars offers effective protection on sliding abrasion in high wear areas for a wide range of applications on fixed and mobile plant equipment including:
● Wear bars for Buckets
● Chute Liners
● Crusher Liners
● Road planners
● Rock box ledges
● Hammer Tips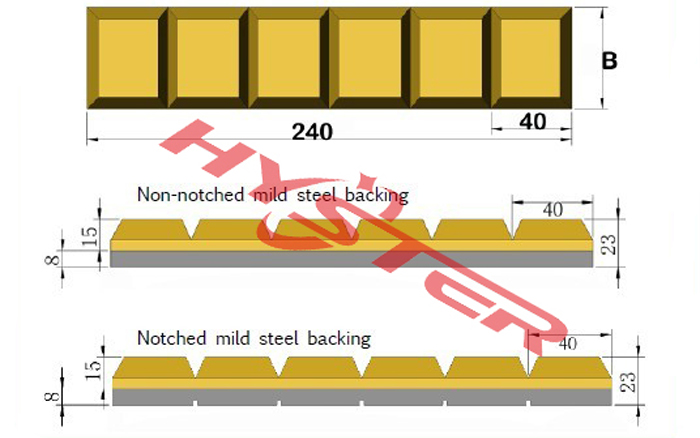 Hyster Item No.
Wear/Backing
Size
Dimension(mm)
N.W.
(mm)
A
B
C
D
(kg)
CB 25
15 on 8
240x25x23
240
25
15
23
0.9
CB 40
15 on 8
240x40x23
240
40
15
23
1.5
CB 50
15 on 8
240x50x23
240
50
15
23
1.9
CB 65
15 on 8
240x65x23
240
65
15
23
2.5
CB 80
15 on 8
240x80x23
240
80
15
23
3.2
CB 90
15 on 8
240x90x23
240
90
15
23
3.5
CB 100
15 on 8
240x100x23
240
100
15
23
3.9
CB 130
15 on 8
240x130x23
240
130
15
23
5.4
CB 150
15 on 8
240x150x23
240
150
15
23
6
TYPE: Nocthed type / non-notched type.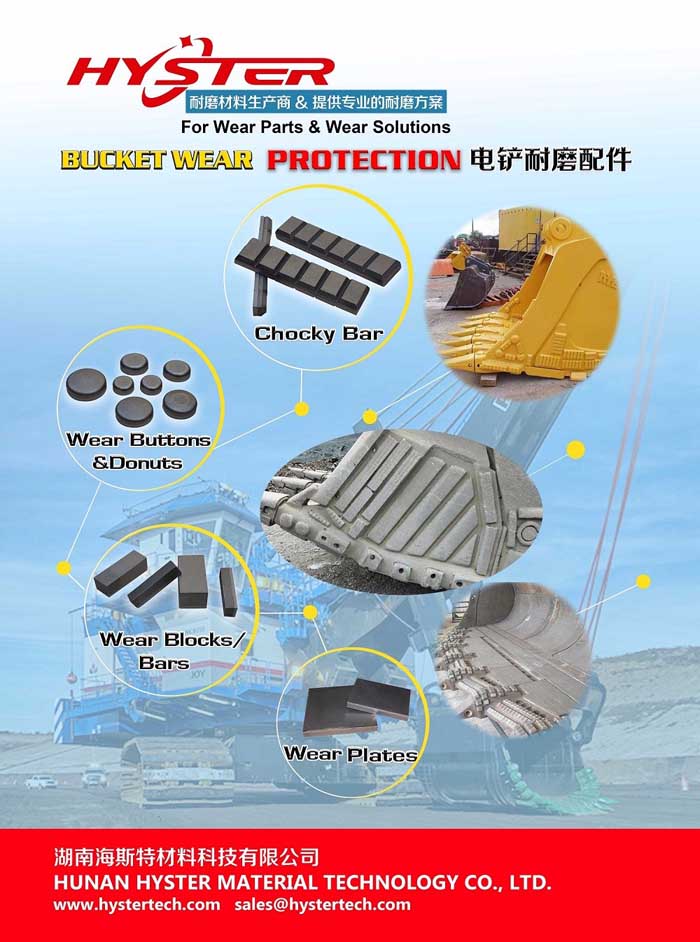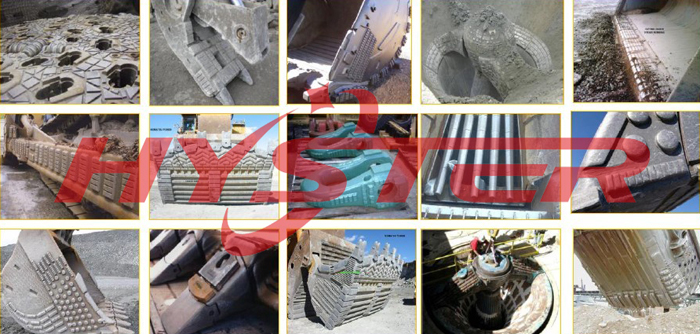 Please feel free to give your inquiry in the form below.